October 6, 2008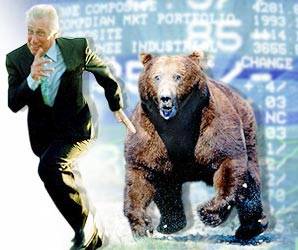 Welcome, Big Media!  We still respect you, honest!
BOOK DETAILS:
Help! A Bear Is Eating Me!
By Mykle Hansen
ISBN: 1933929693
Paperback, 132 pages
Fiction: Humorous
US $10.95
Published by Eraserhead Press
Distributed by Ingram
Available Online: Bizarrocentral.com, Powells.com, Amazon.com or Barnesandnoble.com
REVIEW COPIES: To request a review copy of HELP! A BEAR IS EATING ME!, please leave a comment on this post or contact Rose O'Keefe: publisher at eraserheadpress dot com . We will get right back to you.
AUTHOR ACCESS: Mr. Hansen is intermittently available for book promotions, interviews, bar mitzvahs and corporate off-sites. He does not bite. To request an interview or an author appearance, contact the author directly via this site: info at helpabeariseatingme dot com.
PICTURES:  Ah yes, the good stuff …. below are links to hi-res author photos on Flickr, downloadable in various sizes there. All photos by Seamus Campbell.